b-theory translates pioneering microbial science into new ventures that address the climate and biodiversity emergency
Based in Amsterdam and Los Angeles, b-theory brings rigorous science together with impact investment to build new organizations, products, and partnerships. Currently, b-theory is focused on working with leading microbial scientists in Europe, North America, and Africa on new approaches to regenerating landscapes and developing nature-positive solutions.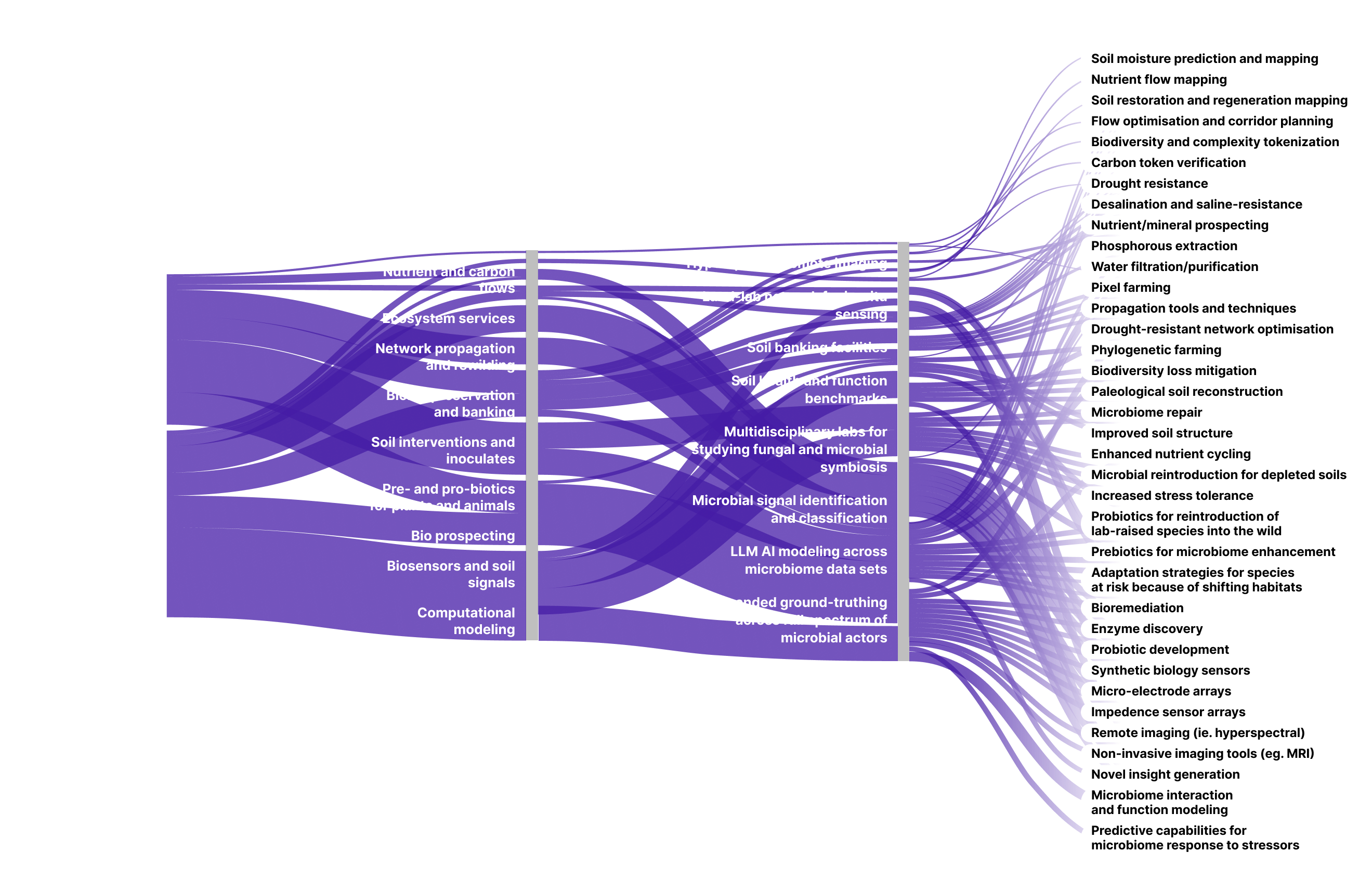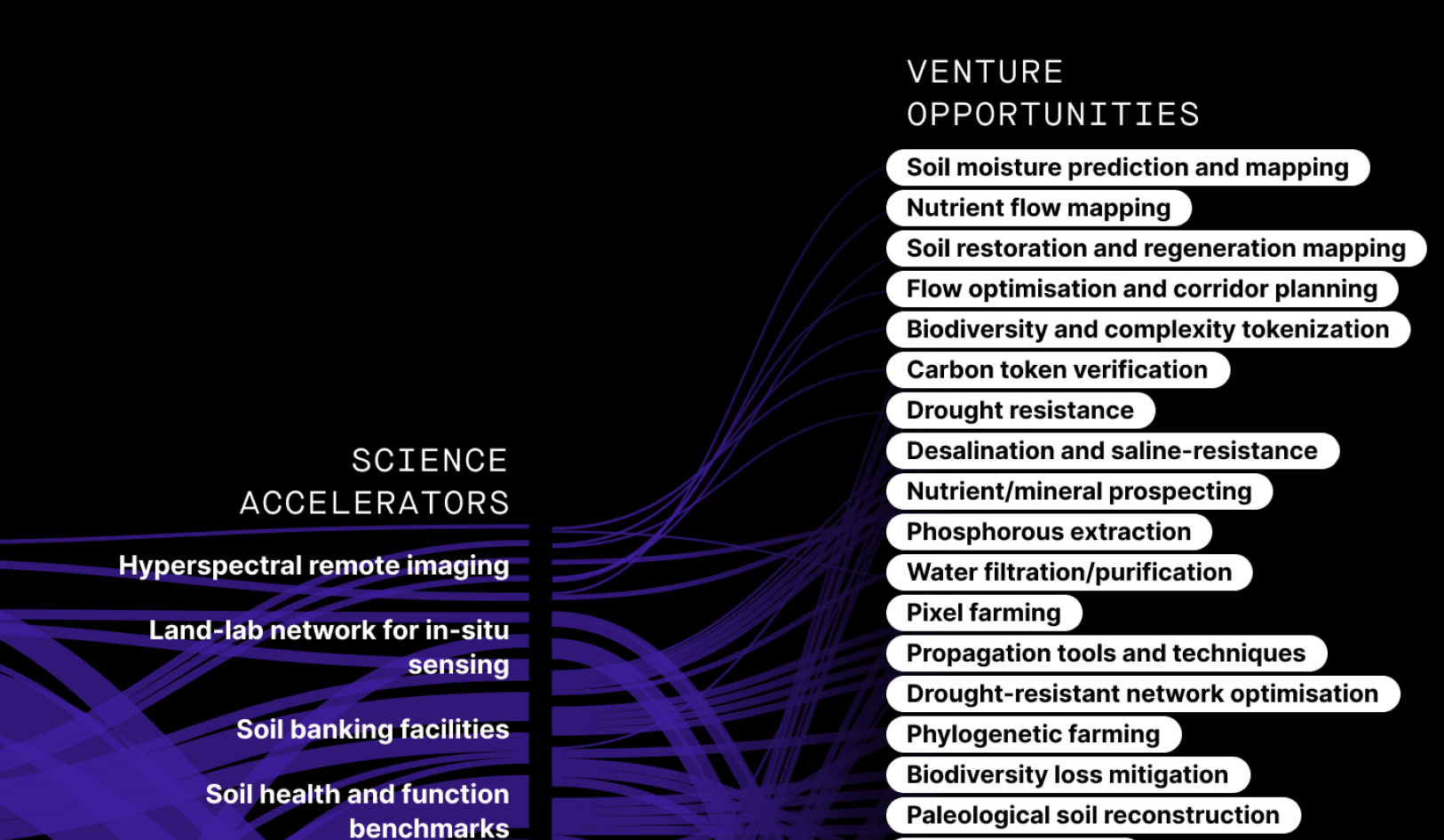 Why Microbes?
Microbes in the soil, specifically fungi and bacteria, are the hidden engineers of entire ecosystems. We believe that effective interventions in these complex living systems must be built from the ground up.
We are focused on three research frontiers each of which is at the cusp of delivering breakthrough insights that will transform key industries. Collectively, these domains represent a paradigm shift in how humans engage with terrestrial systems.
case study
Our map of the world is half-blank, omitting the underground networks that stitch ecosystems together and do the heavy-lifting of carbon sequestration. The brainchild of renowned biologist Dr. Toby Kiers, SPUN's mission is to map the fungal networks of Earth, advocate for the protection of underground ecosystems, and drive innovation in underground climate science.
b-theory has collaborated with the founders from the beginning to clarify the value proposition, secure startup capital, and design the future operating system. Currently, we are leading the startup team as we prepare the organization for scale and create a platform that enables decision-makers to factor the underground into climate mitigation and adaptation strategies.
Visit spun.earth
services
Proposal development for seed funding
Startup CEO and strategic advisory
Brand design including website and key collateral
Partnership strategy and negotiations
Recruiting and support for non-science roles
What problems are we solving for science?
Research on microbial science is systemically underfunded, which is a major barrier to making progress towards key climate and biodiversity goals. Academic labs, which often have high overhead costs and complicated paths-to-outcome, do not always represent attractive partners for impact investors. We work with scientists to build nimble organizations that are able to attract catalytic capital, accelerating research beyond what traditional funding can support.
b-theory has a proven track record of partnering with leading scientists to achieve the following goals:
Attract additional, durable funding to core science.
Help scientists coordinate and frame their research around critical key planetary challenges.
Demonstrate the relevance of core science to market opportunities to provide a critical bridge to scale.
Build brands and platforms that connect with key audiences.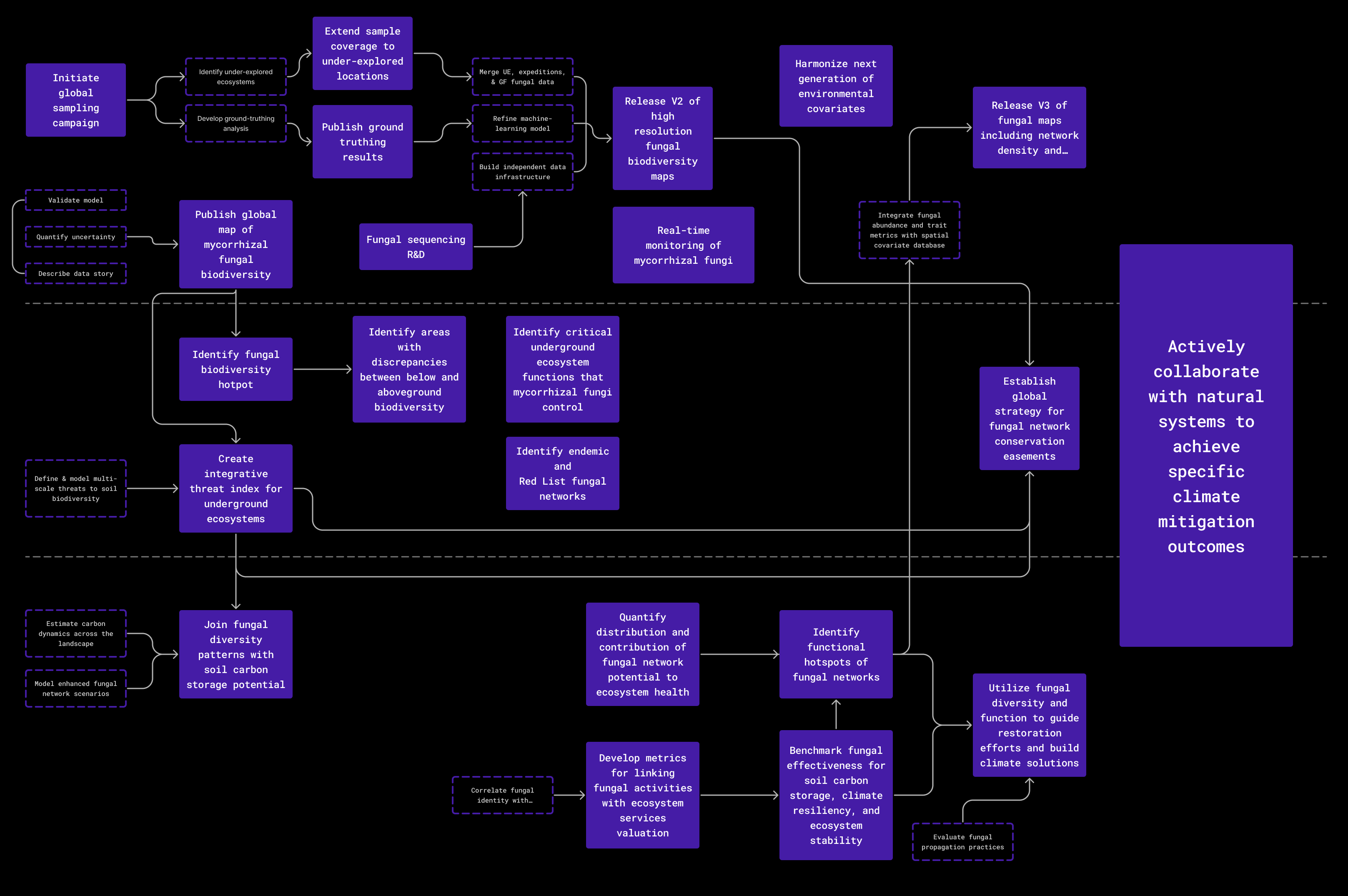 What problems are we solving for venture?
Early-stage research is a challenging area for many impact investors. For this reason, funders often skip the research phase and invest in opportunities that are ready to scale. While the sense of urgency is understandable, this approach short circuits larger opportunities to solve hard problems as well as increases the risk of rushing unproven hypotheses to market—leading to unintended consequences for delicate ecosystems already under stress. We design Scientific Research Organizations that enable impact investors to confidently engage in early-stage research while clearly mapping paths-to-market.
b-theory has a proven approach to bridging the gap between science and venture:
Progress needs to be science-led, focusing on unlocking key questions rather than merely validating market hypotheses.
Scientific research organizations need to be tightly clustered in complementary domains to cultivate research synergies.
We help investors identify opportunities to go beyond extractive models, where ventures take what science makes, and focus on connecting to the market to generate meaningful data that advances scientific understanding.
We supply startup coaching to founding teams as well as deep expertise in brand, product, and platform design.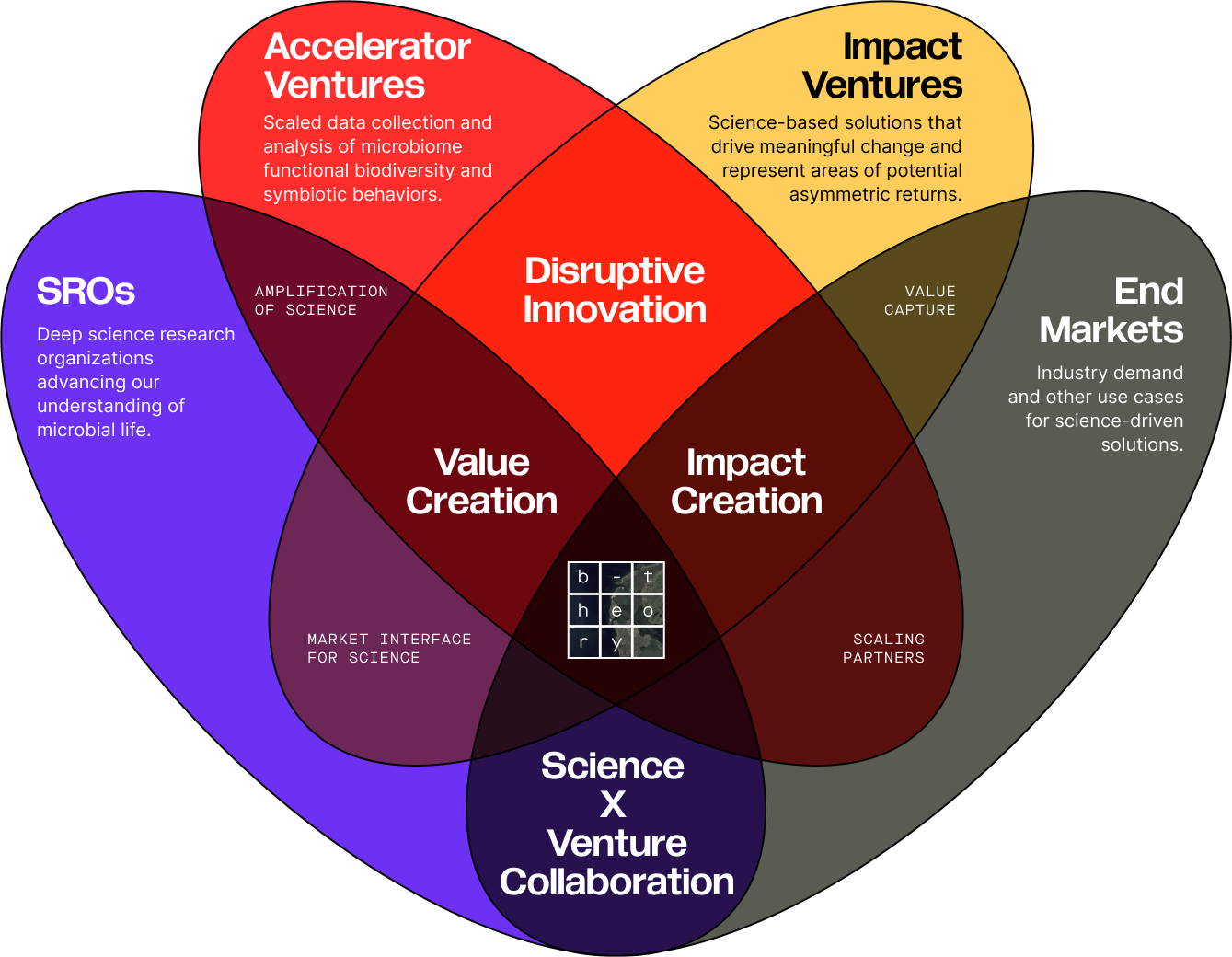 working with b-theory
We engage in three distinct ways across the science-venture ecosystem
We work with scientists to map frontier science to impact and pitch concepts to philanthropic funders and impact investors for new scientific research organizations that enable science-driven venture development.
We work with investors and corporates to map and evaluate opportunity spaces and provide expertise in technology and market innovations related to microbial science. We also assemble teams of science advisors to validate opportunities or explore untapped potential.
We work with founders and VCs to bring an emergent idea into the studio to prove out the impact hypothesis, build the team, and seek seed funding. In the case where a startup already exists, we work with the founding team to refine and prototype the value proposition.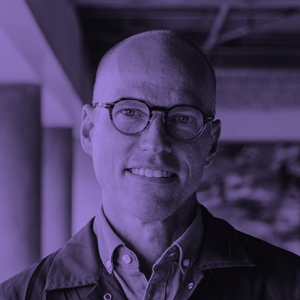 Jason Cremerius
Co-founder
Jason advises boards, founders, and their investors on corporate structure, product vision, and go-to-market strategy. For large enterprises, he has built venture teams that incubate new products and services and validate future-facing business models. Working with founders, he has led startup teams from day zero through growth and venture scale exits. Currently, Jason is Managing Director & Board Advisor at SPUN.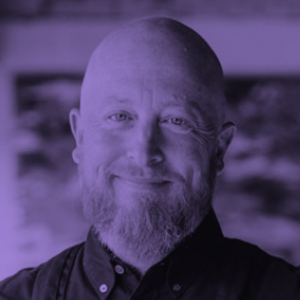 An award-winning product designer with a background in anthropology, David has built research and strategy practices at top agencies, working with brands such as Nike and Google. Recently, he has focused on applying digital methods to physical systems, rethinking shipyards, airports, and precision agriculture. Throughout, he has worked extensively with startups, including as mentor in the Techstars program. He is a strategic advisor at SPUN and part of the core team.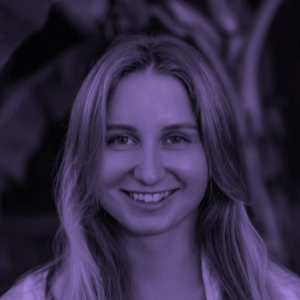 Maria Startseva
PARTNER, INSIGHTS
Maria applies novel insights about human behavior and market dynamics to drive decision-making on business strategy and product direction. She has helped Fortune 500 companies influence user behavior at scale, build innovation programs, and define product strategies. Now she is focused on working with early-stage companies to clarify their value proposition and market differentiation.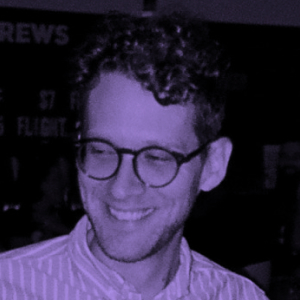 Jordan Young
PARTNER, DESIGN
Jordan is a visual designer with a knack for rapid concept design as an input to product incubation, translating early ideas into compelling prototypes. He has led web, mobile, and product design projects for startups and global brands seeking to disrupt legacy industries by anticipating the next wave of innovation in services and experiences. He is currently Lead Designer at SPUN.